How do you pursue an ancient craft in the midst of the modern world? Roger Butterfield has found a way. Working in the beautiful Rogue River Valley of Southern Oregon he designs and creates old world style masterpieces in hand-carved wood and modern reproductions in state-of-the-art hydro-stone castings.
Roger learned to whittle at his grandfather's knee. He found he had an affinity for the wood and a love of creating, but it was not for another twenty five years that he would begin teaching himself European wood carving and embark on his artistic journey.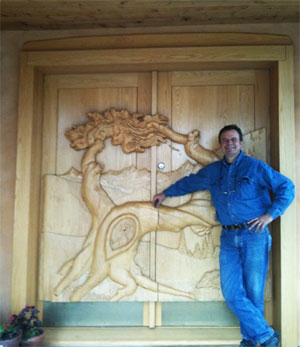 Now, after over twenty years of experience, he has reached the height of his powers as both a designer and craftsman. He creates one-of-a-kind architectural and sculptural pieces that reflect both the sensibilities of his clients and his own vision.